Welcome to Prima Deli North
Lunch is served!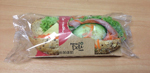 Here at Prima Deli North, we believe that amazing sandwiches begin with the finest ingredients possible with an emphasis on healthy, wholesome foods: freshly baked breads, premium meats and cheeses, fresh produce and plenty of variety. Our range of sandwiches, subs, wraps, sushi, and "heat to eat" products are an easy and satisfying meal.
You can find our products at many service stations, supermarkets and selected cafés around NZ. Stop by one of them before work or on your lunch break to pick up one of your favourites. Check out our range for some delicious ideas.
Prima Deli also offers catering solutions for that special lunch, event or party, contact us for a quote on sandwich platters.
More About Us
Company News
Prima Deli North is often looking for staff. If you are hard working, reliable and flexible, and don't mind early morning starts, we want to hear from you! Check our vacancies page for specific positions available.
Email your CV to hr@primadeli.co.nz
For more news and specials, follow us on Twitter or like us on Facebook: