Company Profile
Prima Deli is a family concern - concerned with providing you with foods, which have freshness you can trust, and quality you can rely on day after day. Prima Deli was born out of an opportunity to supply a void in the "ready to eat" market with deli style fresh sandwiches and parallel products. This market hungers for honest freshness, wholesome goodness, exceptional flavours and guaranteed safety. Prima Deli arose to meet the challenge with our impeccably packaged, high quality ready to eat range, delivered at its freshest.
Prima Deli
is a brand initiated by Derek Kraak in 2000. Derek continues to manage the brand. Prima Deli is manufactured and distributed in the South Island by Prima Deli Ltd. We have a passion for producing the finest foods for the ready to eat market, designed to satisfy the broad Kiwi palate. Stringently audited quality controls coupled with prime natural ingredients, packaged sensitively to meet today's discerning market makes Prima Deli products a popular choice in a variety of markets. Considerable investment continues to be made in planned purpose built premises, food safety programmes, new product development, modern plant and fail-safe computer generated production systems. Operational practises have been developed for production, packaging and labelling to give the company an advantage in swift market response, generic packaging, seasonal menu updates and customer focused specification across all price ranges. Now established as a benchmark quality company in the ready to eat market, Prima Deli has grown at a rate of over thirty percent per annum since its inception. Proof, they say, is in the eating, which is why so many retailers and hosts select Prima Deli.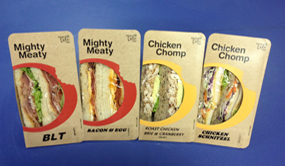 Quality Assurance
Prima Deli ensures that the food we prepare is of the highest quality and meets the strictest standards of health and safety. Prima Deli operates a NZFSA Approved Food Safety Programme that encompasses complete compliance with HACCP standards. We are independently audited three times annually.
Packaging
Prima Deli Design has created a range of packaging perfect for your own branding. Please talk to us if you would like to take advantage of this option. All our sandwich packaging is fully recyclable, and biodegradable.